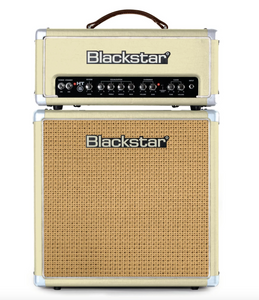 - HT-5RH Amplifier Head -

The HT-5RH is a head version of the HT-5R combo. With all the same great features and tone it's compact and portable, and more than capable of driving a 4x12! This award winning guitar amp is fully equipped for the studio or practice and features stereo reverb, enhanced tone controls and a speaker emulated output.

Two Footswitchable Channels
The guitar amplifier has two channels available for selection, a Clean channel and an Overdrive channel. Using the Volume control while on the Clean channel you are able to deliver everything from a clean sound through to a crunch tone. Alternatively you can select the Overdrive channel and again using the Gain control, change from a clean sound on the edge of breakup right through to a distorted lead tone.

5 Watt, Push-Pull Design
The HT-5 power amplifier is a low powered push-pull design which produces the crunch and break-up characteristics of a traditional 100W output stage, but at a much lower volume. This is achieved by the use of a 12BH7 dual triode valve in push-pull configuration producing 5 Watts output, which is rich in valve harmonics and compression, sounding full and toneful even at the lowest volume level.

Digital Reverb
The reverb control sets the overall level of the reverb effect. With the control fully counter clockwise there will be no reverb. Turning the control clockwise will increase the amount of reverb.

Speaker Emulated Output
The Blackstar emulated output design is a new benchmark for pro direct recording. This no-compromise design makes it easy to get your tone to disk and tape. You can also use it to run a line out to a PA.

ISF Control
The ISF control works in conjunction with the Tone control. It allows you to choose the exact tone signature you prefer. Fully CCW is a more American characteristic with a tight bottom end and more aggressive middle, and fully CW is a British characteristic which is more 'woody' and less aggressive.


- HT-112 Cabinet -

The HT-112 extension cabinet contains 1x12" 50W custom designed speaker. It has been produced to the highest standards and using the finest materials. Every care has been taken to ensure it produces the best possible sounds. It really will last a lifetime!

1X12" Speaker Cabinet
The HT-112 and HT Metal 112 extension cabinets use 12" Blackbird 50 Speakers.

12" Speaker
The HT-5C and HT-5R models both feature a Blackstar custom voiced 12inch 50W speaker.
HT-5RH 5W Amplifier Head Features:
Innovative 5 Watt valve combo
1xECC83 and 1x12BH7 valves
Unique push pull power amp design
Award winning HT Pedal preamp
Two footswitchable channels
Enhanced tone controls
Patented Infinite Shape Feature (ISF)
Digital Stereo Reverb
Fully equipped for studio or practice
Speaker emulated output with 1x12 or 4x12 voicing
Effects loop with effects level switch
Footswitch included
Cool vintage styling
HT-112 Cabinet Features:
12" 50W speaker custom designed by Blackstar
Designed for use with the HT-5 range